Valerie Keatley takes top honour at Godolphin Stud and Stable Staff Awards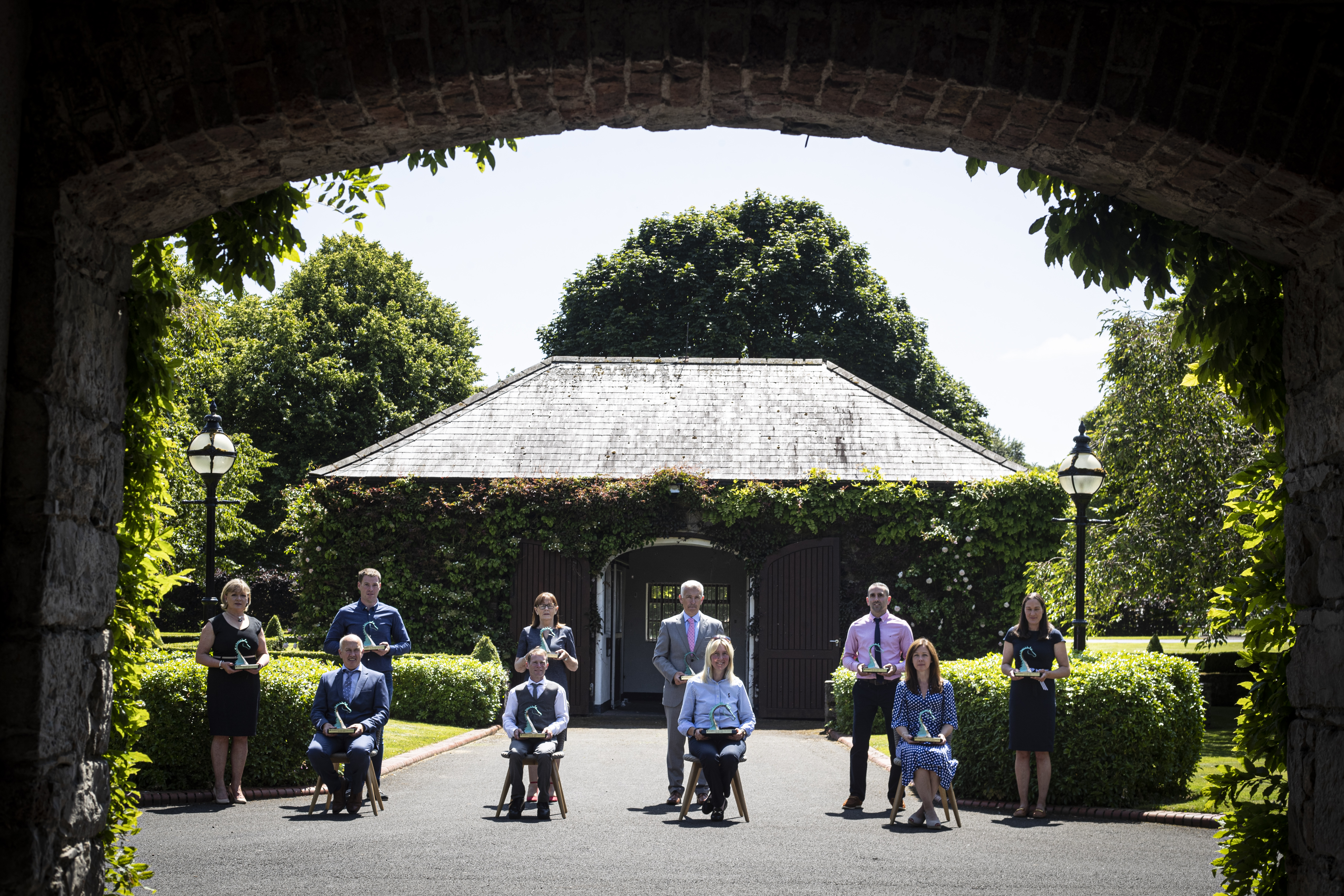 Valerie Keatley, Head Girl for trainer Johnny Murtagh was announced as the Irish Racing Excellence Award winner at the 2021 Godolphin Stud and Stable Staff Awards today.
Valerie, who also won the Leadership Award for Stable Employees and was among eight individual category winners, was selected by the judging committee for the highest accolade.
Valerie joined Johnny Murtagh's not long after he set up his training business and Johnny credits her contribution as one of the reasons why the yard has performed consistently on an upward curve over the last number of years.
Valerie's wealth of knowledge and experience, her passion for horses and her mentorship of young staff really impressed the judging committee. It was evident from Valerie's nomination that she sets and leads the standard for the yard and the judges commended her for her dedication to her job, the horses in her care and her exceptional work ethic.
Irish Racing Excellence Award and Leadership Stable Award winner, Valerie Keatley, said: "I eat, sleep and breath horses so it was a huge honour to be nominated and be chosen as one of the finalists. To win the Leadership Stable Award and then win the Irish Racing Excellence Award is just unbelievable – I am over the moon, especially when I was nominated with all the other brilliant finalists and winners this year."
Helen O'Sullivan Career Coach at the Irish Jockeys' Trust in County Kildare won the Racing & Breeding Support Services Award. Helen has spent her entire career supporting the Irish racing industry, was instrumental in setting up the educational aspects of RACE and has devoted many years supporting aspiring jockeys to reach their full potential.
Anne O'Connor, Racing Secretary for Michael Halford won the Administration Award. Anne has experienced and gained knowledge of many facets of the thoroughbred world through her roles with Goffs, the ITBA and charity work for the industry. With Michael Halford since 2014, Anne has brought her vast experience and skills to Cooper Beech Stables.
The Newcomer Award went to Keith Lynam, Stud Groom at Ringfort Stud in County Offaly. Keith started working in Ringfort Stud in September 2017. He was a total newcomer to the world of breeding having previously worked in the hospitality industry. He has quickly become a very important part of the Ringfort team and has a full understanding of the farm's breeding operation. Keith's contribution and work ethic during the 2018 foaling season which included his handling and prepping for the sales helped Ringfort Stud have its best racing year.
The Horse Care Award went to Emmett Raher, Head Lad for Henry de Bromhead in County Waterford. Horses under Emmett's care include Honeysuckle, Minella Indo and A Plus Tard to name just a few. His hard work, dedication, care, and attention to detail with these horses, especially Honeysuckle, helped the yard had achieve its many successes during the 2020/2021 National Hunt season.
The In The SaddleAward, one of the most competitive awards, went to David Glennon, Stable Lad for Dermot Weld on the Curragh. A graduate of RACE, David has worked for Dermot Weld since 1994 after spending time riding in Germany, England, and Dubai. He has played a huge part in some notable horses over the years, most recently with Tarnawa who won the Prix Vermeille, the Irish St Leger, Prix de l'Opera Longines and Longines Breeders' Cup Turf in the Autumn of 2020. His input and care of Tarnawa was pivotal in the horse's global success.
Caroline Hannon, Manager at Newtown Stud in Naas, County Kildare won the Leadership Award for stud employees. A University of Limerick Equine Science graduate, Caroline displays leadership every single day in her role as Manager of Newtown Stud. She is instrumental in the success of the stud and is responsible for leading the stud's team in pretraining top-class horses and instils her high standards among all the stud team whether that is in foaling, sales preparation, riding skills or pre-training.
The Dedication to Racing Award winner was Ger Brabston, Horsebox Driver for Derrinstown Stud in Maynooth, County Kildare. In 1986, Ger followed his father's footsteps to work for Vincent O'Brien in Ballydoyle and his lifelong career with horses began. He joined the team at Derrinstown in 1988 and since then has handled nearly all of Sheikh Hamdan's stock. With over 37 years in thoroughbred racing and breeding, he is a great ambassador for the industry.
A Special Recognition Award was presented to Dr Jennifer Pugh, Senior Medical officer with the Irish Horseracing Regulatory Board to acknowledge the extraordinary support she and her team provided to the Irish stud and stable staff during both the suspension of racing and since its resumption under restrictions due to the Covid-19 pandemic. Dr Pugh is originally from Loughbrickland in Co Down.
The Irish Stablestaff Association chose Tramore Racecourse for the Racecourse Award. The judging committee commented on the huge efforts made by the County Waterford track to facilitate and support stable staff especially during the Covid-19 pandemic including complimentary stable staff hospitality and 'Best Turned Out' prizes for all races. The winning prize is €2,500 which is to be used for continuing to upgrade stable staff facilities.
Joe Osborne, Managing Director, Godolphin Ireland, commented: "On behalf of Godolphin and our fellow sponsors I congratulate the winners announced today.  It is an inspiring array of talent, dedication and enthusiasm – talents which have helped us all navigate our sector through a difficult time. Valerie Keatley deserves particular mention as winner of the Irish Racing Excellence Award. She is a great role model for everyone in our industry and we are delighted that her leadership skills have been credited with that prestigious award by the judging committee."
Bernard Caldwell, Irish Stablestaff Association CEO, said: "It is so rewarding to see so many well-deserving stud and stable staff acknowledged with prestigious Godolphin Stud and Stable Staff Awards. The standard of the nominations gets higher and higher each year so congratulations to all the finalists and winners. I would like to sincerely thank Godolphin for their generous sponsorship, everyone who nominated their staff, colleagues and friends, and acknowledge HRI for managing the entire awards event."
Shane O'Dwyer, CEO, Irish Thoroughbred Breeders' Association, said: "The Godolphin Stud and Stable Staff Awards are a wonderful opportunity for the thoroughbred industry to acknowledge and appreciate all those working in both the breeding and racing sectors in Ireland. We should be very proud of the dedication and resilience of our committed stud and stable staff, who are at the very heart and core of our wonderful industry. Many congratulations to all the very deserving finalists and winners."
The 11 award categories carry over €85,000 prizemoney which is divided among the winners, finalists, and their employers. The Newcomer Award winner also receives a trip to Dubai. In addition, the winner in each category receives a specially commissioned trophy by sculptor Ani Mollereau.
The 11 winners and runners-up for the 2021 Godolphin Stud and Stable Staff Awards are:
Irish Racing Excellence Award
Valerie Keatley, Head Girl, Johnny Murtagh, Co Kildare
Racing and Breeding Support Services Award
Helen O'Sullivan, Career Coach, Irish Jockeys' Trust, Co Kildare
The runners-up are:
Cathy Healy, Office Manager, Healy Racing Photography, Co Kerry
Niall Kennedy, Owner Equestrian Laundry, Co Kildare
Administration Award
Anne O'Connor, Racing Secretary, Michael Halford, Co Kildare
The runners-up are:
Aoife Hanratty, Stud Secretary, Oghill House Stud, Co Kildare
Marie Rowley, Racing Secretary, Pat Flynn, Co Waterford
Newcomer Award
Keith Lynam, Stud Groom, Ringfort Stud, Co Offaly
The runners-up are:
Nicholas Cope, Stud Groom, Ballyphilip Stud, Co Limerick
Kelly Rae, Groom, Sarah Lynam, Co Meath
Horse Care Award
Emmett Raher, Head Lad, Henry de Bromhead, Co Waterford
The runners-up are:
Jennifer Breslin, Assistant Broodmare Manager, Ballylinch Stud, Co Kilkenny
George Dobbs, Stud Hand, Staffordstown Stud, Co Meath
In The Saddle Award
David Glennon, Stable Lad, Dermot Weld, Co Kildare
The runners-up are:
Ray Michael Cody, Head Lad, Ray P Cody, Co Kilkenny
Diarmuid Keeling, Exercise Rider & Groom, Willie Mullins, Co Carlow
Leadership Award (Stud)
Caroline Hannon, Manager, Newtown Stud, Co Kildare
The runners-up are:
Brian Delahunt, Stud Groom, Baroda Stud, Co Kildare
Agathe Lebailly, Stud Groom, Kilfrush Stud, Co Limerick
Leadership Award (Stable)
Valerie Keatley, Head Girl, Johnny Murtagh, Co Kildare
The runners-up are:
Adrien Bolger, Yard Manager, Jessica Harrington, Co Kildare
Damien Byrne, Team Leader, Joseph O'Brien, Co Kilkenny
Dedication to Racing and Breeding Award
Ger Brabston, Horsebox Driver, Derrinstown Stud, Co Kildare
The runners-up are:
David Flynn, Travelling Head Lad, Michael Grassick, Co Kildare
Michael Lyons, Second Man, Mount Coote Stud, Co Limerick
Special Recognition Award
Dr Jennifer Pugh, Senior Medical Officer, IHRB
Racecourse Award
Tramore Racecourse