Brian Delahunt, Stud Groom at Baroda Stud takes top accolade at Irish Thoroughbred Industry Employee Awards supported by Godolphin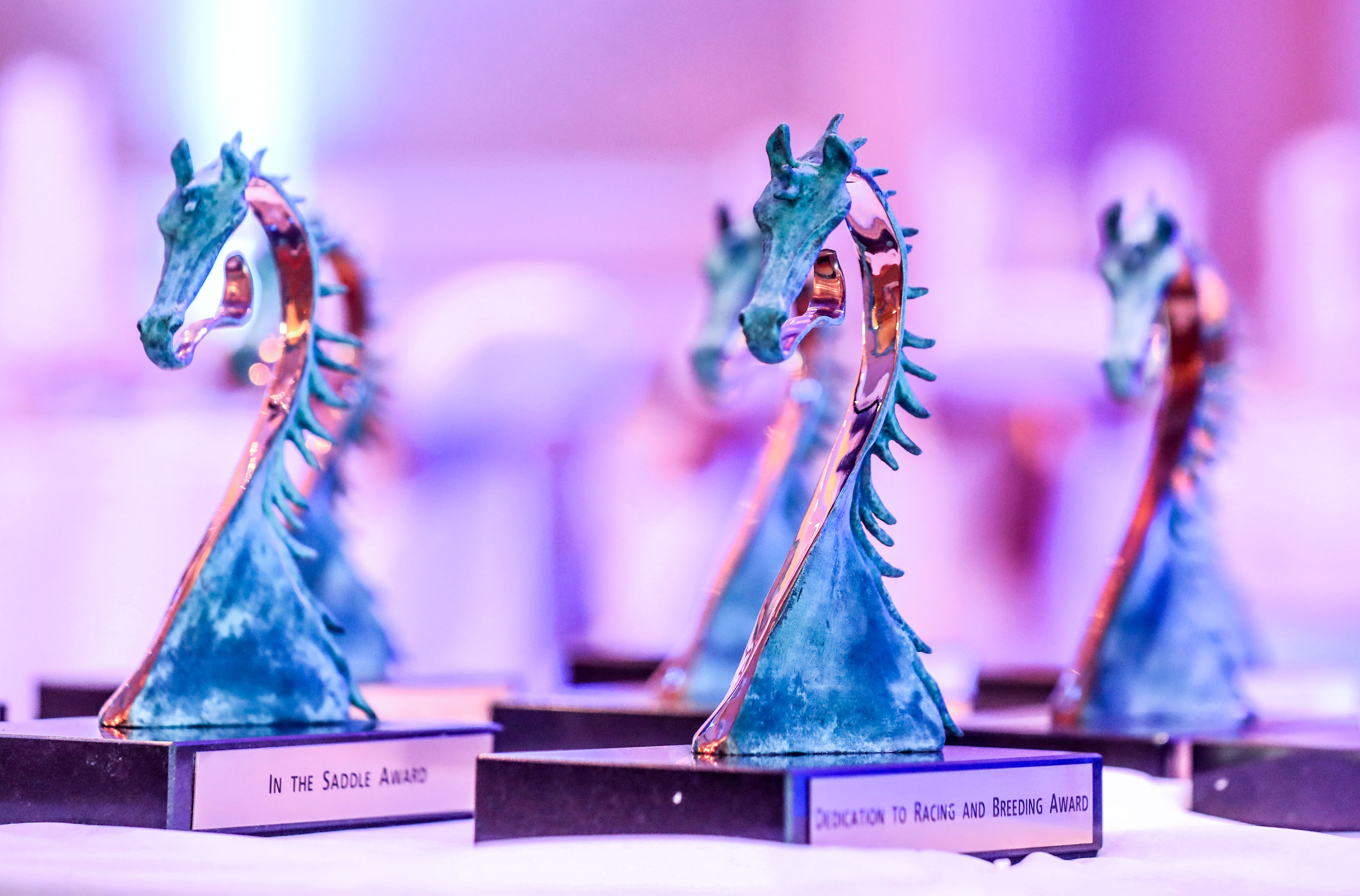 Nine winners from Carlow, Cork, Down, Kildare, Kilkenny, Limerick, Meath also win awards
Brian Delahunt, Stud Groom at Baroda Stud in County Kildare was announced as the Irish Racing Excellence Award winner at the 2022 Irish Thoroughbred Industry Employee Awards, supported by Godolphin, in the Keadeen Hotel on Tuesday evening.
Brian has been working in the racing and breeding industry since he was 20, working in Ardoon Stud and Tipper House Stud before moving to Baroda Stud in Newbridge 10 years ago and was among eight recipients of an Irish Thoroughbred Industry Employee Award, supported by Godolphin – formerly known as the Godolphin Stud and Stable Staff Awards.
Accepting his award, Brian Delahunt, said: "I just love working with horses, especially mares and foals, so to win this award for doing a job I love is very special and I am truly honoured, especially when the calibre of the other winners is so high. I would like to thank Godolphin for their generous sponsorship and to Tamso and David Cox at Baroda who nominated me and I dedicate the award to my brother George who passed away last year."
The other seven Godolphin sponsored Irish Thoroughbred Industry Employee Award winners were:
Tom Agar, Senior Groom, Jim Bolger, Co Kilkenny

Edward Farrell

, Stud Groom, Lisieux Stud, Co Kildare

Imran Haider, Barn Manager & Work Rider, Willie Mullins, Co Carlow

Tommy Hayes, Yard Manager, Goffs, Co Kildare

Denis Lawlor, Stud Groom, Ballyphilip Stud, Co Limerick

Stephanie McGinley, Stud Groom, Boardsmill Stud, Co Meath

Sinead O'Sullivan, Travelling Head Groom, John J Murphy, Co Cork
Chosen by the Irish Stable Staff Association, and based on a quality programme evaluation, Downpatrick Racecourse won the Racecourse Award for the facilities they offer stable staff.
Each Irish Thoroughbred Industry Employee Award winner received a specially commissioned trophy by sculptor Ani Mollereau and €4,000. An additional €2,500 was awarded to their employers to be used for the benefit of each winner's colleagues.
The Racecourse Award winner, Downpatrick Racecourse won €2,500 to be spent on upgrading facilities that will benefit stable employees along with an Ani Mollereau trophy.
The Irish Racing Excellence Award winner received an additional €5,000 and €2,500 for their employer to be used for the benefit of their work colleagues.
Joe Osborne, Managing Director, Godolphin Ireland, said: "The 2022 Irish Thoroughbred Industry Employee Awards were a wonderful celebration of the great people within our industry.  We are delighted with how well the new format worked for the awards this year and all of us at Godolphin extend our congratulations and gratitude to the recipients."